A little bit about the people running this website:
We are a small group of people with a passion for horse racing and, more importantly, for making a profit from betting on it..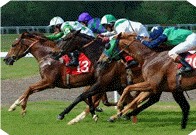 Our aim
We aim to be the first choice for anyone looking to invest in laying tips for horse racing. We are trying to achieve this by making sensible consistent profits, by providing no-nonsense advice, and by offering our services at a very competitive rate. And we offer a free no-obligation trial unlike many other tipsters, so anyone can sample our service and see what we have to offer. Website update - Full Membership is now FREE!
Our "form"
We could boast that we've had many years success in picking losers in horse races, but in truth for many years the horses we'd been picking we had been wanting to win! But without this experience we may never have discovered the merits of backing losers, not to mention the greater chances of long-term success. After all, as we keep saying it's easier to find a horse that will lose a race than a one that will win a race. So in recent times we have gained a expertise in picking horses to lose races. We use a methodical, statistical approach to picking our lays. No stable whispers and no BS! Now it's your turn to benefit from our expertise.